It all started with a single student...
Anish Merchant (seated) born and raised in Texas was living in Buenos Aires, playing music in a bluegrass band, and basking in the city's world renowned nightlife.
With a degree in physics and a high GMAT score, Anish offered to tutor "a friend of a friend" who was struggling with the exam. What began as informal hourly courses would change the course of both of their lives.
During their sessions, Anish learned his student's motivations for taking the GMAT. She was a very high performer in a multinational corporation who was consistently getting passed over for promotions due to her gender. Frustrated by the machismo she was facing in the workplace, she wanted to look for more opportunities abroad. But she wasn't getting the GMAT scores she needed, even after a few sessions with Anish.
Empathetic to her plight, Anish set about refining his lesson plans. He knew this student had what it took to ace the GMAT. She was intelligent and hungry for a more fulfilling career; she just needed a better approach to the exam. Finally, after a year of picking the exam apart and putting it back together, Anish developed the Merchant methodology. With it, this first student was able to score a 700 and follow her dreams abroad. She recommended him to some friends.
Word in Buenos Aires quickly got out that Anish was the GMAT wizard. People who studied with him got results. Before long, many of the top young professionals in the nation were seeking his services. He was overwhelmed with requests. He needed help, and he found it, in all places, from his bluegrass bandmate Joe Mashek (standing).
Joe led the Merchant expansion into Admissions Consultant services, transforming Merchant from a GMAT prep business to a turn-key graduate school solution for Latin America's top young professionals.
Over the years, Anish and Joe have been able to help hundreds of students tackle the GMAT and grow their careers abroad.
And yes, they still find time to jam blue grass together.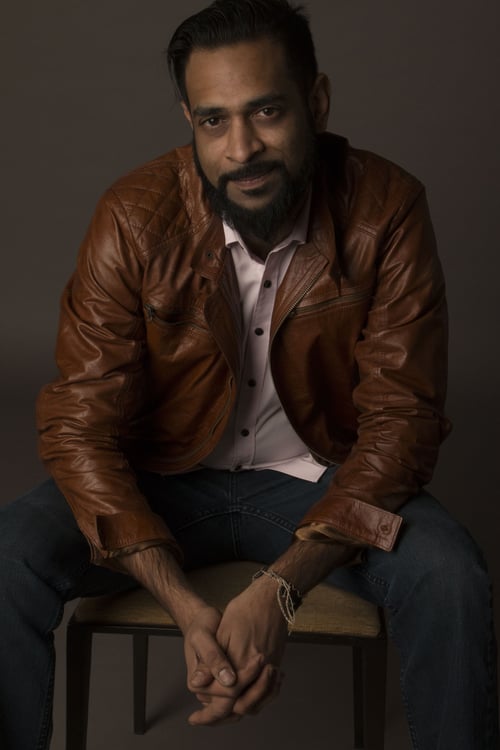 Anish Merchant
Co-Founder & CEO
Born in the land of sugar, located in the great state of Texas, I found my true home in Buenos Aires when I first moved here in 2010. It was here where I discovered my true calling which is helping others achieve their dreams. I have a passion for learning and consider myself a lifelong student.
Joe Mashek
Co-Founder & Alumni Relations
Creative entrepreneur based in Buenos Aires who has helped hundreds through their MBA journey. I can wear a lot of different hats and play a lot of instruments. I can help you get into your dream MBA program and then get that job you've always wanted. I can then come visit you at your mountain or beach house. No?
Born in Buenos Aires but raised in the world... I lived in Mexico, New Zealand, Scotland, Spain, and am now settled in a small beach town in Uruguay. With a Design background, I have always been passionate about communication and education. My studies as an Othological Coach help me develop my new position as HR Manager. I love connecting with people and having new adventures. I can spend hours dancing surrounded by friends and dogs!
Dr Dimitrios Vonofakos
GMAT Director & Verbal Coach
Greek born and raised, I spent a fair bit of time in the UK working on the applications of psychoanalysis in Business and Learning before closing shop and moving down South for new adventures. I love classic rock, a good Malbec and long-distance running - preferably, in that order.
Pablo Dans
Growth Director
Born and raised in the southern suburbs of Buenos Aires, I am a long-time vegetarian who doesn't like to eat vegetables at all! I love pretty much every sport (E sports excluded) and competitions. My true passion in life is fixing things, either abstract or concrete ones, even more if it requires alternative thinking or resources. That's why I'm known as "The Wolf"!
Will Aquino
Integrator & Operations Director
Born & Raised in the US and living in Buenos Aires for the last 14 years, I'd like to consider myself an "American" in the truest sense of the word. As the "Integrator" at Merchant I focus on continuously improving the synergy between departments, as well as the never-ending improvement of the client & employee experience. My main interests outside of work revolve around music (I'm also a DJ), sports, social causes & bringing people together for a good time.
Nahuel Zunino
Admissions Specialist
From the Far West in the outskirts of Buenos Aires, land of poets, trains and rock and roll, I live among homemade meals and nights of playing strategy games, whenever my cat allows it. As a writer and translator, I will help you find the words that bring that MBA star out of you.
Elena Demaria
Verbal Coach
Born and raised in Zarate, a small town close to Buenos Aires, I am an English translator and teacher with about 15 years of experience in language related jobs. I believe I am a determined, focused, and hard-working person who enjoys doing what I love. A lover of road trips, I am always "on the road", looking for new places to love and enjoy. I love good reading, researching history and culture related topics, cooking and trying new foods. My idea of fun times will usually entail spending time with my friends and family and sharing a glass of good wine and some homemade tasty food!
Emilia Moreschi
Verbal Coach
Born and raised in Mendoza, I am a professor of English Language and Linguistics and also a researcher who is passionate about communication and the power of language. I consider myself a hard-working and determined person, and hard work and determination are qualities that I try to instill in my students. I love traveling, trying new food and learning about other cultures. In my free time, I like spending time with my family and I enjoy going out with friends as well. I never say no to a glass of good wine and a powerful movie!
Candelaria Borda Di Pardo
Growth Associate
Born and raised in Buenos Aires, you will never find me without my "mate". Even though I love numbers, if you give me 2 days I will finish a full book of 2000 pages. During the past 7 years, I had the chance to meet people from all over the world and get to know all their experiences. I'm really thankful to Merchant for giving me the opportunity to develop my skills further and get to know more people!
Sol Sergiani
Accounting & Finance Manager
Born and raised in Buenos Aires, I am a systems analyst who is obsessed with technology. In my other life, I am a photographer who loves dogs and travel. With a background in law and finance, you will find me working my 'assets' off and solving problems you didn't know you had... that is, until my Italian roots start to show, and then you will find me drinking wine and talking loud.
Gustavo Davanzo
Admissions Consultant
Born and raised in Buenos Aires, I have a strong passion for helping people pursue their MBA journey at the business schools of their dreams. My main interests outside of work include sports (mainly running and cross-fit) and yoga.
Juan Carlos Salomone
Quant Coach
Born in Buenos Aires but raised in Mar del Plata. I'm a math teacher passionate about teaching and crazy about applied math. I love to travel, especially to places where I can go for a hike and be around nature. You will always see me with a smile on my face talking about music, cine, football (Boca Juniors of course) and my cat.