How to Determine What GMAT Score You Need for Business School Admissions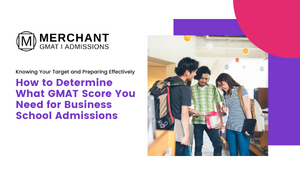 It's no secret that a high GMAT score can give your business school application a boost. But what score do you need to get in order to be competitive? And how can you prepare effectively to reach your target score? In this blog post, we'll answer those questions and more, so you can confidently apply to the MBA program of your dreams.
What is a good GMAT score for business school admissions?
Looking to get that perfect GMAT score for business school admissions? The good news is, what one might consider a good GMAT score really depends on the business school you're applying to! Different institutions have different weightings and acceptance requirements. Generally speaking, a 'good' GMAT score should exceed 600. However, if you're looking to get accepted into prestigious schools such as Harvard or Stanford, then your scores should be more than 650. Ultimately, it depends on where you want to go and how competitive your desired school programs are. Whether one sticks with 600 or pushes for greater results, scoring well in the GMAT can open an entire world of opportunities!
How to calculate your target GMAT score
Your GMAT score is one of the most important pieces of your business school application. But figuring out what that magical number should be can be a tricky endeavor. While there is no perfect score for all applicants, you can calculate a target GMAT score to aim for when taking the exam. Start by researching the average GMAT score for the business schools you wish to attend, and use that as a guide to build a minimum score goal. Factor in any additional criteria, such as GPA or job experience, and you may even decide to shoot higher than your target school's average! With some planning and reflection, setting an appropriate target GMAT score isn't nearly as intimidating as it seems!
How to prepare effectively to reach your target score
Setting a goal and achieving it requires tailored preparation. If you have set a score as your own personal target, that can be achieved through an effective preparation plan. Start with understanding the basics of the scoring system and breaking down every component that makes up the whole score. Learn what areas you're specialized in and find out which ones need more work and attention. Once you know where to focus, create a study plan and establish a routine for yourself. Make sure you stay active even during breaks for increased productivity in the long run. Keep track of your progress by regularly taking mock tests to see where improvements are needed and make sure to reward yourself after those incremental successes! All this requires time but following this strategy would help you get close to or perhaps even reach that target score!
Tips for increasing your chances of getting into business school with a high GMAT score
Gearing up for business school? Aiming for a high GMAT score? There are plenty of tips to help you increase your chances of getting into the business program you desire, starting with the basics such as getting plenty of study time, breaking big goals into smaller ones, and building a strong network. But don't forget the other fundamentals as well - do your research on specific schools, get familiar with their expectations, and be aware of deadlines! Knowing how to budget your time correctly is an important skill as you strive towards achieving a high GMAT score and competing effectively with other applicants. The key takeaway here: stay organized and keep going while wheeling and dealing!
Now that you know what a good GMAT score is and how to calculate your target score, it's time to get to work. Follow the tips in this article for an effective study plan, and don't forget the importance of practice tests. With a little hard work and dedication, you'll be on your way to reaching your target GMAT score and increasing your chances of getting into business school.